Hello everyone!
I just wanted to show off my new banner that Jenny made. Of course it matches my business card but its still super adorable. In addition to the banner, I have also added a Trinket Trunk button so that those who love our little shop can show some support by adding us on their blog!! So add our button today and help advertise us!
I've also been working hard to try and add some new items to our store and posted the new cozies today!There is a "Bandanna Cozie Collection" for sale and a "Polk-A-Dot" Collection as well. Very cute for the summer!
Also in our wood collection we have added a new "Angel Candle Holder" great for home decor or anywhere you'd like to place a candle.
Please stop by and visit our store today and check out these great new items. Hope you all enojoy!!!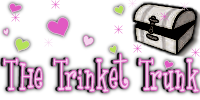 p.s.
Isn't our signature cute?